Builders vent violent discontent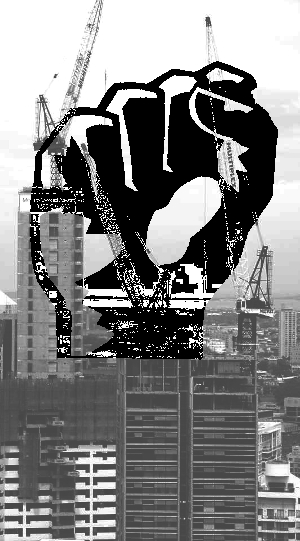 The Victorian Government has ordered a two-week shutdown of the state's construction industry following violent protests.
Union members with genuine grievances were joined by disgruntled residents, anti-vaxxers, alleged neo-nazis and others, smashing the windows of the CFMEU's headquarters, throwing flares and projectiles.
Several people were arrested following the violent rally, with police vowing to track down as "many of those in attendance as possible".
The $22 billion industry has been allowed to operate unhindered throughout much of the COVID-19 pandemic, but low levels of adherence to guidelines have seen the industry linked to hundreds of COVID-19 cases, and the seeding of the virus into regional areas.
Tempers had flared since a government announcement last Thursday that construction workers would no longer be permitted to cross between metropolitan Melbourne and regional Victoria for work, after seeding cases from Melbourne to regional LGAs.
They were also outraged at a mandate requiring all construction sites to close tea rooms and introduce worker shift bubbles and COVID-19 marshals from Friday. All workers were also required to have received or booked at least one dose of vaccine unless they have a medical exemption.
Before the protests, the CFMEU, ETU, Plumbers Union and AMWU issued a joint statement accusing the government of introducing "heavy-handed" health directions that "only served to drive many people towards the anti-vax movement".
The CFMEU said members had been manipulated by "outside extremists" and "infiltrated by neo-Nazis".
On Monday, as protesters attempted to storm the CFMEU building in Melbourne, kicking in doors, smashing glass and brawling, leader John Setka emerged to try to calm the mob.
Protesters chanted "f--k the jab" and called Mr Setka "Dan Andrews' b--ch".
"Stop calling Dan my mate, I've never met the bloke," Mr Setka said.
"Understand this. I have fought so hard to keep this industry going so everyone can keep working."
Mr Setka asked the crowd; "So you want us to shut the whole industry down?"
Possibly confused at the question, many cheered in support. But that threat has now come true, with construction shut down in metropolitan Melbourne and other Local Government Areas currently in lockdown for two weeks from Monday. Work will be permitted to render sites safe and to secure against looting.
"They're not really unionists, they're just the scum of the earth as far as I'm concerned," Mr Setka said.
"Those drunken fascist un-Australian morons are the reason construction workers will be sitting at home and not getting paid for at least the next 2 weeks," Mr Setka said.
Reports say the state cabinet made the closure decision on Monday morning on advice from chief health officer Brett Sutton, but rushed to announce it earlier than planned in response to the protest.
Another protest is planned for Tuesday.