Department urges dig for equality

Print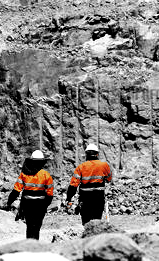 The WA Department of Mines and Petroleum (DMP) has been held up as an example for women in leadership roles.
Minister for Mines and Petroleum Bill Marmion says the department's example should be taken up across the resources sector.
Recetn studies have shown 19 per cent of WA's resources sector workforce is female, and of those, 16 per cent work in management roles.
Mr Marmion issued a clear challenge to the industry, saying it should commit to promoting women's career pathways.
"I'm pleased to be able to say that the Department of Mines and Petroleum recognises the importance of a strong female presence across senior management, with women in the positions of Deputy Director General and Petroleum General Manager," Mr Marmion said at the Women in Energy and Resource Leadership Summit 2015.
"Increasing the number of women in executive roles will provide important leadership as Western Australia works smarter to maintain and extend our global mining and petroleum strength.
"With the industry facing some challenges, there is no better time than now for companies to further embrace the advantages of gender balance."
The Minister said a study by the WA Chamber of Minerals and Energy showed that resource industry teams that included women demonstrated higher levels of innovation and creativity.
The same study found that when there were more women on mine site workforces, equipment was treated better and there were improvements in workplace relations and safety records as well.
"To me, it's a no-brainer," Mr Marmion said.
"Many WA resources companies have excellent programs to encourage female employment and advancement but the industry still needs more women at the corporate level, in senior management and on site."