Drill rig risks raised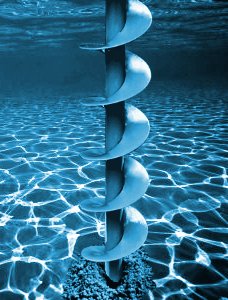 Tasmania's EPA has been slammed for its handling of a drilling platform moored in the River Derwent.
The Ocean Monarch has been drilling for gas off the east Gippsland coast before it was towed to Hobart for repairs last November.
Salmon company Tassal, which operates in the bay, says it has a number of concerns about potential biosecurity risks posed by the rig.
Tassal has alerted the state's Environmental Protection Agency (EPA), which has confirmed it received a warning about the marine pest Didemnum perlucidum (the white colonial sea squirt) on the platform's submerged sections.
The rig's owner Diamond Offshore has sought to block EPA inspectors from searching for the marine pests, but has agreed to provide the EPA with a report on its own investigations.
EPA director Wes Ford has revealed the company is under no legal requirement to be inspected.
"My decision to undertake an inspection in late November was based on advice I received from the Commonwealth around the risk assessment work that had been undertaken," he told the ABC.
"There are no environmental requirements by the EPA for vessels entering Tasmanian waters."
The Tasmanian Government says its EPA is "regulating" the potential environmental impacts of the Ocean Monarch.
"In regards to the Ocean Monarch, the independent EPA is regulating potential environmental impacts, including noise, waste and marine biofouling via Environment Protection Notice," it said.
"This is a visiting vessel and little different to the cruise ships and tankers that come into the river every day."
Conservationists are concerned that the self-assessment may not be the most reliable. They have also suggested the EPA should have inspected the rig before it came into the river.
The perceived lack of transparency around the EPA and the biosecurity rules have led some to call for a legal overhaul.
Producers say different industries are held to different levels of accountability, which are not necessarily linked to the risks of those industries.
Oyster and salmon producers are among those calling for a harmonised environmental regulation system.