F-35s finally taking to skies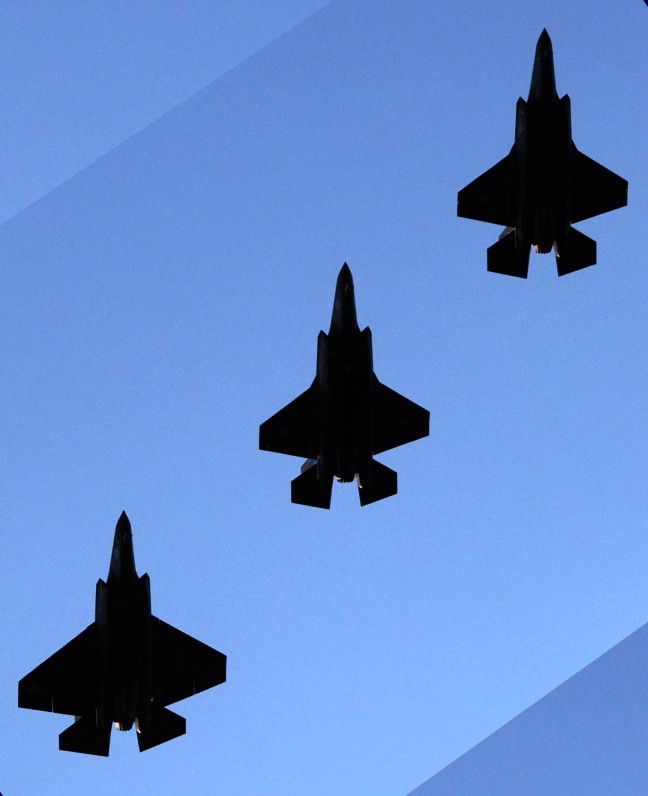 The Australian Government may finally get to see the F-35 stealth fighter next month.
Australia has put in an order for 72 F-35s, but the project has been plagued by years of delay, technical failure, cost overruns and even international intrigue.
The F-35 is already the most expensive aeronautical engineering project in history, with a total forecast cost of almost $540 billion.
By the time Australia takes delivery of its 72 warbirds - which is meant to happen in 2020 but in reality could be almost any time - it will have spent a whopping $17 billion.
Demonstrations are planned for the Royal International Air Tattoo and the Farnborough International Airshow next month. There will be an element of retribution for the F-35, after its planned appearance at Farnborough was cancelled in 2014.
The Royal International Air Tattoo will feature five F-35s — three F-35Bs and two F-35As — with three F-35Bs to fly at Farnborough the following week.
The Pentagon will be hoping that the display can ease the minds of its F-35 Joint Strike Fighter (JSF) program partners.
The JSF scheme is meant to be the backbone of both America and Australia's fighter fleet.
The jet comes in three designs – the all-purpose F-35A, the vertical take-off capable F-35B, and the folding-wing F-35C for use on aircraft carriers.
While most stakeholders are still waiting, the plane has already gone into limited service.
Last year, the US Marine Corps hit a major milestone when it announced that a handful of pared-down F-35Bs were officially operational.
While they are outwardly confident, the people behind the project will be hoping that the turbulent path will soon clear.
F-35s were supposed to have flown at Farnborough in 2014, but the entire fleet was grounded after one caught fire in the US.
"Technically, it has definitely seen the worst," says air industry analyst Richard Aboulafia.
The most recent setback for the project was detailed in Pentagon reports from February this year, which said the F-35A model in particular was dogged by problems like software bugs and technical glitches.
The engineering reports also warned that the plane's eject system could kill pilots if they are below a certain weight.
But still, production levels are ramping-up, with 53 aircraft expected to be delivered this year, bringing the total so far to 155 F-35s.
Some of the nine countries funding the F-35 program have received their planes, the latest being the Netherlands which took delivery of two F-35As this year.