Ratings run down in mining decline

Print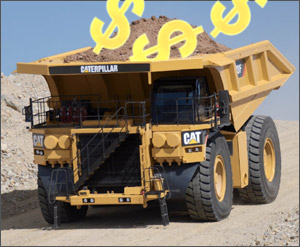 BHP Billiton and Rio Tinto are taking hits amid the ongoing commodities crunch.
Ratings agency Standard & Poor's has downgraded BHP's credit rating from A+ to A, while Rio Tinto's A- rating has been placed on a negative watch.
Standard & Poor's says the decision reflects "very challenging market conditions and increased demand uncertainty over the coming years".
"Metal prices have come under pressure because of fears of lower demand from China, and excess supply remains an issue," S&P said.
"Particularly relevant for BHP Billiton, the oversupply of crude oil in the market results in very weak oil and gas prices, which we now believe will last over the foreseeable future, putting further pressure on its balance sheet."
BHP has also received S&P's "credit watch with negative implications" tag, hinting that the miner's rating could go down another notch after earnings are released on February 23.
In a sign of stress across the mining sector, Rio Tinto's credit rating has also been placed on negative watch.
S&P has warned that Rio's score could drop a notch from A- if it does not sure up its balance sheet soon.
BHP has issued a statement saying it has "the strongest credit rating in the sector and remains committed to maintaining its strong balance sheet through the cycle".
BHP maintains its A+ credit rating at Fitch, while its A1 assessment at Moody's has been put on review for a downgrade.