Quad bike laws go live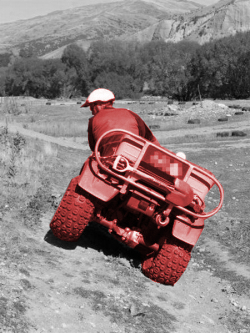 Roll bars are now mandatory on quad bikes sold in Australia.
From this week, all new quad bikes and all-terrain vehicles (ATVs) must meet new stability guidelines, including rollover protection.
The rules apply to all new vehicles and any second-hand bikes sold. New bikes must also feature warning stickers about the degree of slope at which they overturn.
Dealerships face a $500,000 fine if they sell a non-compliant ATV after October 11.
Quad bikes remain one of the most dangerous vehicles in Australia, and are a major cause of death and injury in agriculture, contributing to it being Australia's most dangerous industry to work in.
So far this year, six people have died in quad bike accidents, following 24 quad bike fatalities in 2020. In these incidents, the most common cause of death is crushing and asphyxiation following a rollover.
Efforts to make the vehicles safer date back to 2018, when the ACCC recommended tougher regulations including a star safety rating system.
In 2019, the federal government introduced the new safety regulations, the first stage of which came into effect in October 2020.
Three major manufacturers - Honda, Suzuki and Yamaha - stopped supplying Australia with ATVs after the safety standards were first announced. This has hit local dealers hard, leaving many that supplied vehicles from only one company now without any stock to sell.